Tie The Knot In Natural Splendour
Langkawi - A Fabled Destination of Wedded Bliss
Welcome to Langkawi - a tropical island paradise blessed with sun-kissed white sand bays, sweeping coastlines edged by the sparkling Andaman Sea and an archipelago of centuries-old geological formations and hidden islets that astound you. A romantic, exotic haven where lush rainforests and fascinating folk legends sets a mythical stage for couples embarking on their lifelong journey of wedded bliss.
For more information email events.langkawi@stregis.com
or call +604 960 6666
Save The Date at The St. Regis Langkawi
Quintessential weddings, customised for you at the most coveted address on this fabled island to celebrate a momentous occasion. Tucked away in a private cove facing a natural, shady seawater lagoon, The St. Regis Langkawi will sweep you off your feet as a wedding destination of choice. Coupled with our plethora of impeccable, bespoke onsite services, allow us to make the wedding of your dreams come true.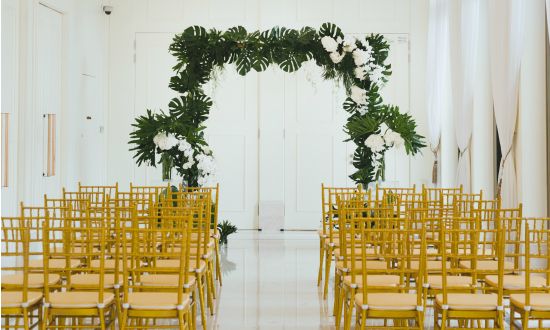 Ceremonies
Whether it is an intimate, grand or traditional affair, allow our dedicated Wedding Specialists to hold your hand and guide you on ways and means in arranging meaningful ceremonial rituals and arrangements customised to let your personality shine.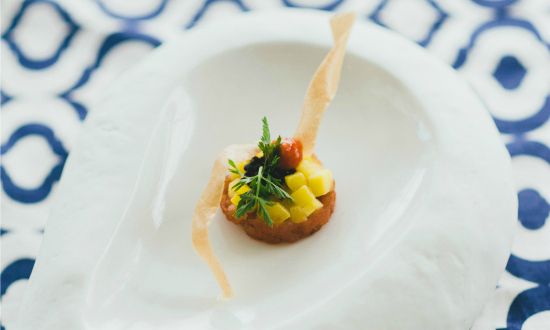 Receptions
Trust The St. Regis Langkawi to walk you down the aisle less taken when it comes pre or post-wedding ceremony celebrations. We are happy to kick things up a notch or two for your reception, be it a casual rehearsal lunch, a vivacious cocktail party, a bachelorette revelry or a glitzy gala dinner.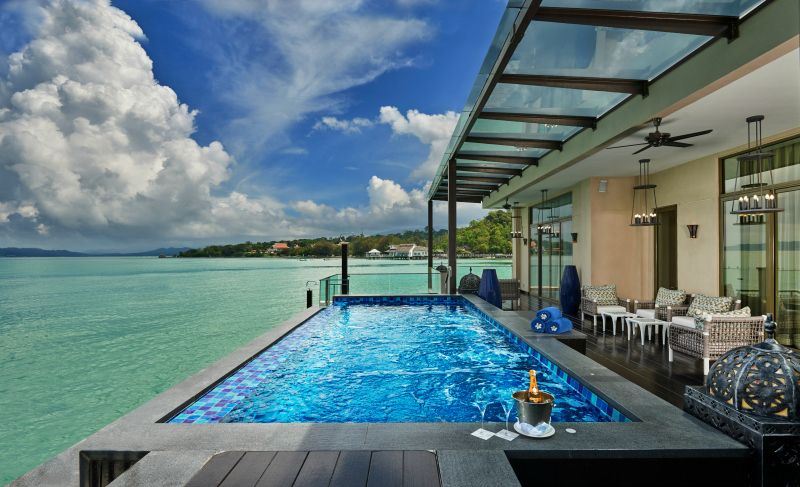 Romantic Rendezvous for Two
Romancing your other half is a cinch when we have impossibly intimate ideas to create a 'fairy tale' rendezvous just for the star-crossed couple. Notable options to seduce you include a luxuriours couple spa, sunset cruises, a private escapade to an exclusive island, adrenalin-fuelled heli tours and a pull-out-the-stops candlelit dinner at a venue of your choice in a private cabana, our Moorish pavilion or in one of The St. Regis Langkawi's sumptuous suites.
Incomparable Venues
Depending on the theme of choice evoking regal romance, outdoorsy chic or ethereally exotic, these stunning venues are boud to elevate your wedding party to new heights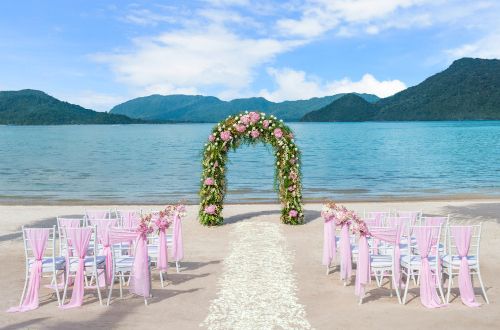 Beachfront
Discover the perfect setting for an exquisite beachfront wedding. Our signature ceremony setting, overlooks the glistening Andaman Sea and more than 10 million year old rainforest.
Capacity
140 guests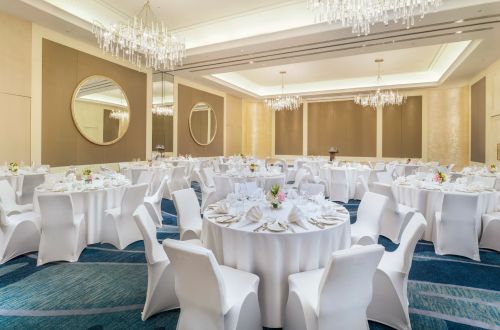 The Astor Ballroom
Langkawi's most favoured address for dream weddings. Adorned with contemporary crystal chandeliers, plush underfoot carpet and opulent furnishing coupled with a spacious pre-function area, The Astor Ballroom rises to the occasion every time, especially for bridal receptions and gala banquets
Capacity
Cocktail: 200 guests
Banquet: 140 guests
Kayu Puti
Weddings and Kayu Puti are a match made in heaven. Perched over the waters of the Andaman sea, this celebrated culinary outpost adds extra lustre to any nuptial affairs with its wraparound terrace where surreal sunset views can be enjoyed from oversized sundeck hammocks. This venue is perfect for wedding lunches.
Capacity
Minimum 20 guests
Maximum 30 guests

Cocktail: 40 guests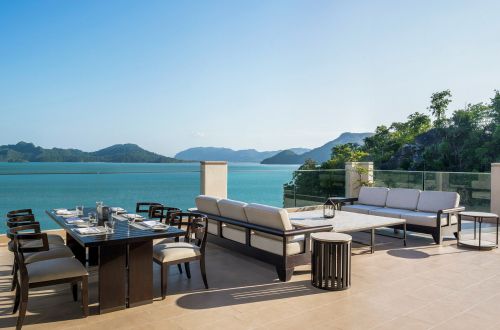 Penthouse (Outdoor Terrace)
As the epitome of grandeur with an illustrious top-floor address for entertaining, our Penthouse Suites boast a vast wraparound rooftop terrace with storied 180-degree views of the Andaman Sea and rainforest.
Capacity
Cocktail: 40 guests
Dinner: 24 guests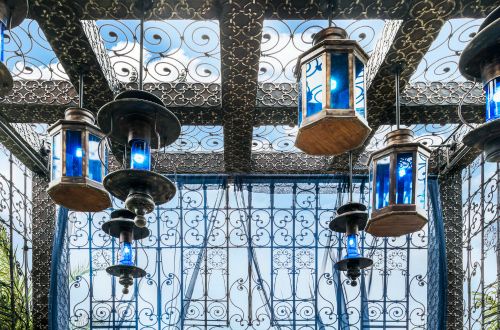 Moorish Pavilion
Adorned with batik star motifs, overhanging blue glass lanterns and an intricately hand-laid stone-pebbled floor, the elegant, wrought iron and teak Moorish Pavilion is just the ideal pedestal for the exchange of wedding voiws serenaded by the seductive symphony of sea breeze and ocean waves.

Capacity
Dinner: Maximum 12 guests
Ceremony: Maximum 12 guests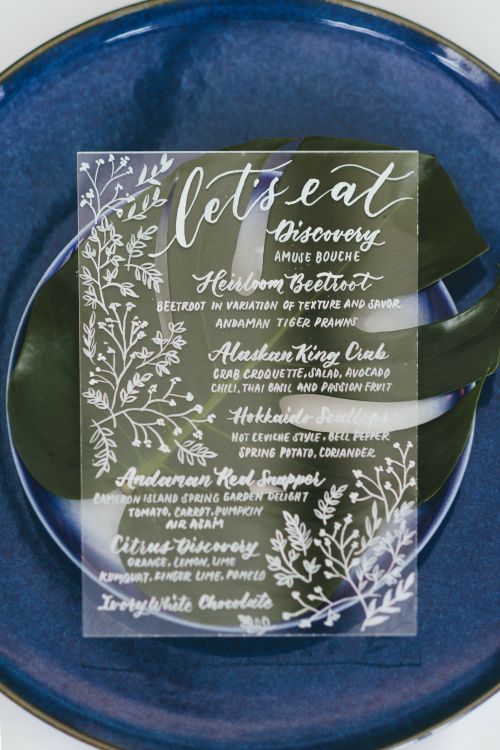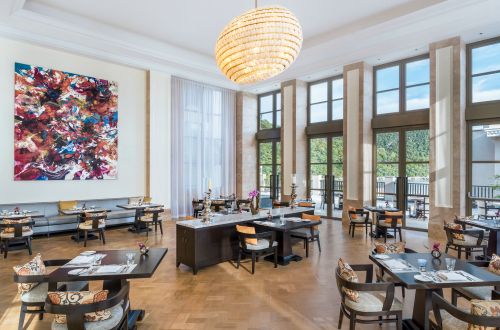 L'Orangerie
Modelled after aristocratic palatial glass houses where orange and citrus trees thrive, the L'Orangerie restaurant is a culinary Garden of Eden where intrepid gastronomes can wine and dine to their hearts' content.
Capacity
80 guests
L'Orangerie Terrace
Banquet: 40 guests
Cocktail: 50 guests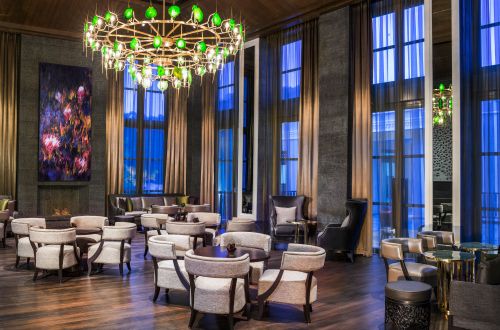 St. Regis Bar
A dramatic soothing sanctuary with captivating rainforest vibes, evoked by an expansive and intricately hand-etched Banyan tree wall mural and fossil wood tables. Ideal for pre-wedding rituals of spirited, jovial bridal showers or lively bachelors' parties accompanied with premier libations: from The Lang Mary cocktail to smoky single malts and divine martinis.
Capacity
Dinner: 60 guests
Cocktail: 120 guests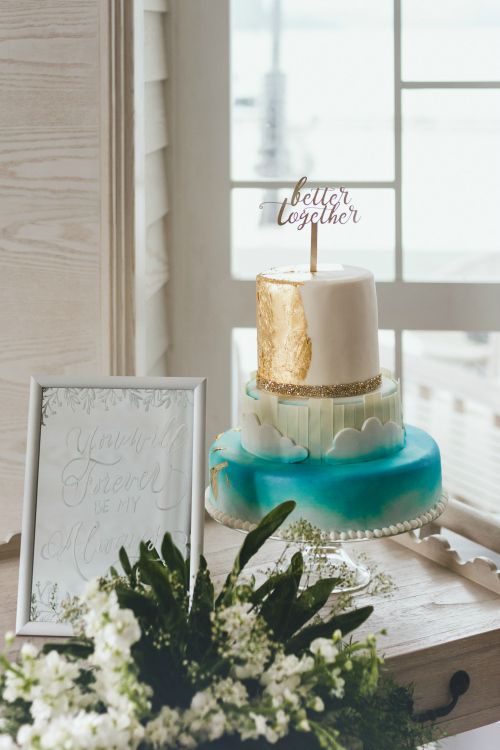 Ongoing Promotions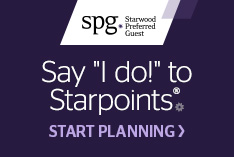 Say "I do!" to Starpoints
OUR WEDDING GIFT TO YOU: DOUBLE STARPOINTS TO REDEEM FOR A HONEYMOON.
Book your wedding at a participating SPG® hotel or resort in Asia Pacific by 31 December 2018 and you'll earn double Starpoints® — up to 100,000 Starpoints on eligible charges. Then redeem the Starpoints for a sweet honeymoon.
Visit spg.com/honeymoon to learn more.